Karie Gower, LCAT, ATR-BC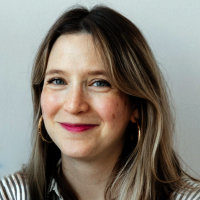 Licensed Creative Arts Therapist
Registered & Board-Certified Art Therapist
Trauma / EMDR Therapy
Clinical Supervision / Consultation
Private Practice: Adolescents, Adults, Families, Couples
Karie Gower, LCAT, ATR-BC has been a mental health therapist in Buffalo, NY since 2011, working with a variety of ages, individually and in groups. She is a licensed creative arts therapist (LCAT) in New York State and a nationally registered, board-certified art therapist (ATR-BC) with the Art Therapy Credentials Board.
Originally from Western New York, Karie attended University at Buffalo for her undergraduate degree majoring in Fine Arts with a focus on psychology. She went on to earn her Master's degree in Art Therapy from The George Washington University in Washington, D.C.
After returning to the Buffalo area, Karie worked for Gateway-Longview's Behavioral Health Clinic, first as a mental health clinician and then as a clinical supervisor. She provided individual mental health counseling to children and adolescents aged 3-21, as well as adult family members. Karie provided clinical supervision to art therapists, social workers and mental health counselors in this clinic setting. She also worked as a coordinator and trainer for the agency in Solution Focused Trauma-Informed Care.
She is trained in EMDR Therapy, integrating mindfulness techniques and mind-body connection work into her clinical practice. Karie regularly attends professional training on trauma, attachment, neurobiology, art therapy, and somatic experiences.
Karie's previous work in the field includes her partnership with the Mental Health Association of Erie County providing grant-funded art therapy groups to youth throughout the area. She also taught an Introduction to Art Therapy course as an adjunct professor at Buffalo State College. Karie has also worked with survivors of domestic violence at the Kathleen Mary House, providing individual art therapy to adults in the home.