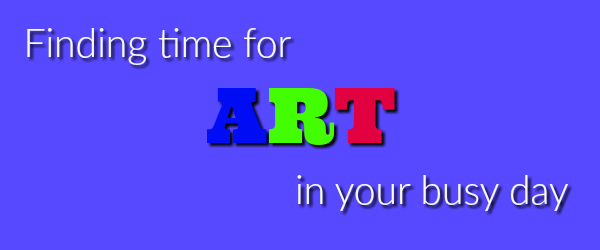 With a packed schedule, it can be hard to find time for creative expression; but it may be that much more important.
It's no secret that art making is healing and life-enhancing. Since the dawn of time, humans have been making their mark – drawing, dancing, singing, storytelling and other uniquely human ways that we process personal or cultural experiences.
Something that we all share - across cultures and throughout time - is the need to connect and to create. Whether cooking, writing, drawing, taking photos, or coloring, we utilize the power of creativity in our everyday lives. While it can be an individual pursuit, being creative in these and other ways can often lead to better connection with others. It is vital to our happiness and well-being, whether you label these activities as "art" or not.
Creativity can and should be incorporated into our day, no matter how busy life may be. As a mental health professional, I recognize the need for self-care in those I treat as well as myself. The differences between what I do as a therapist – guiding individuals in the use of creative arts for the purpose of personal growth – and art making for self-care are myriad; however, there are some easy ways that we can all incorporate creative expression into our lives each day.
I hope you will find some of the starting points below inspiring:
Buy a coloring book (for kids or adults)!
Pick up a pack of colored pencils or markers. Keep them in a place of reach, where you often sit or lay down. While coloring, notice how you are feeling: Relaxed? Worried? Calm? After coloring, take time to notice the same. See if you can notice a difference in the number or intensity of your thoughts, emotions, and body sensations after taking time for a little self-care.
Coloring can easily be squeezed into your day before work, on your lunch break, after school with your kids, or before bed.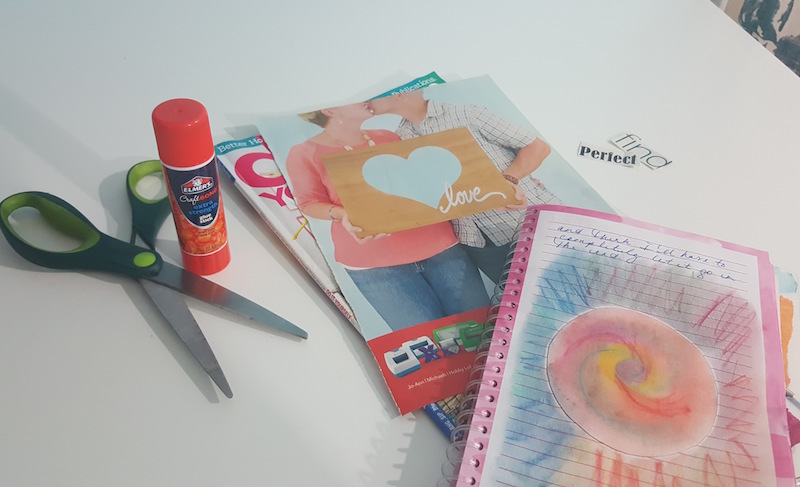 Have a bunch of old magazines lying around? Cut them up!
Cut out words, symbols, colorful textures, and images that "speak" to you. Perhaps you choose things that you like, that represent your mood, or that help you focus on the future.
Use what you collect to assemble a collection of images and words. These can be glued onto paper, inside a journal, or used to decorate a decorative box. Collage can take the stress out of confronting a blank page.
Get a journal that you really like – go ahead and splurge! Keep it next to your bed so that in the quiet time of the morning, or the calm of night before you sleep, you can jot down the thoughts, ideas, or worries.
If you haven't journaled before, you may surprise yourself if you give it a try. You can simply take note of how you are feeling, or what you are looking forward to; you can try writing some poetry (quality doesn't matter!) or write a message to your future self.
Many people enjoy creating visual journals, which can include collage images or drawings created either before or after making a written entry.
The "secret" to squeezing more art into your busy life is to put the tools necessary for creation in the places that provide the most opportunity for use. It's okay to allow yourself to start something and leave the rest for later. Try to do just a little at a time – and be gentle with yourself if you miss a day (or two, or more!). This kind of self-care routine can be a tremendous support for individuals between sessions, and can often enrich the work one is doing in therapy. Art therapists support their clients in finding the best tools to express what's needed both in and between therapy sessions. To read more about art therapy or connect to an art therapist in our area, please visit our community page.